Himalayan Foothills and Great Western Himalayas
The forests and grasslands in the Himalayan foothills and great Himalayan ranges in Himachal Pradesh, Uttarakhand, Jammu, and Kashmir regions are a heaven for Himalayan avifauna watchers.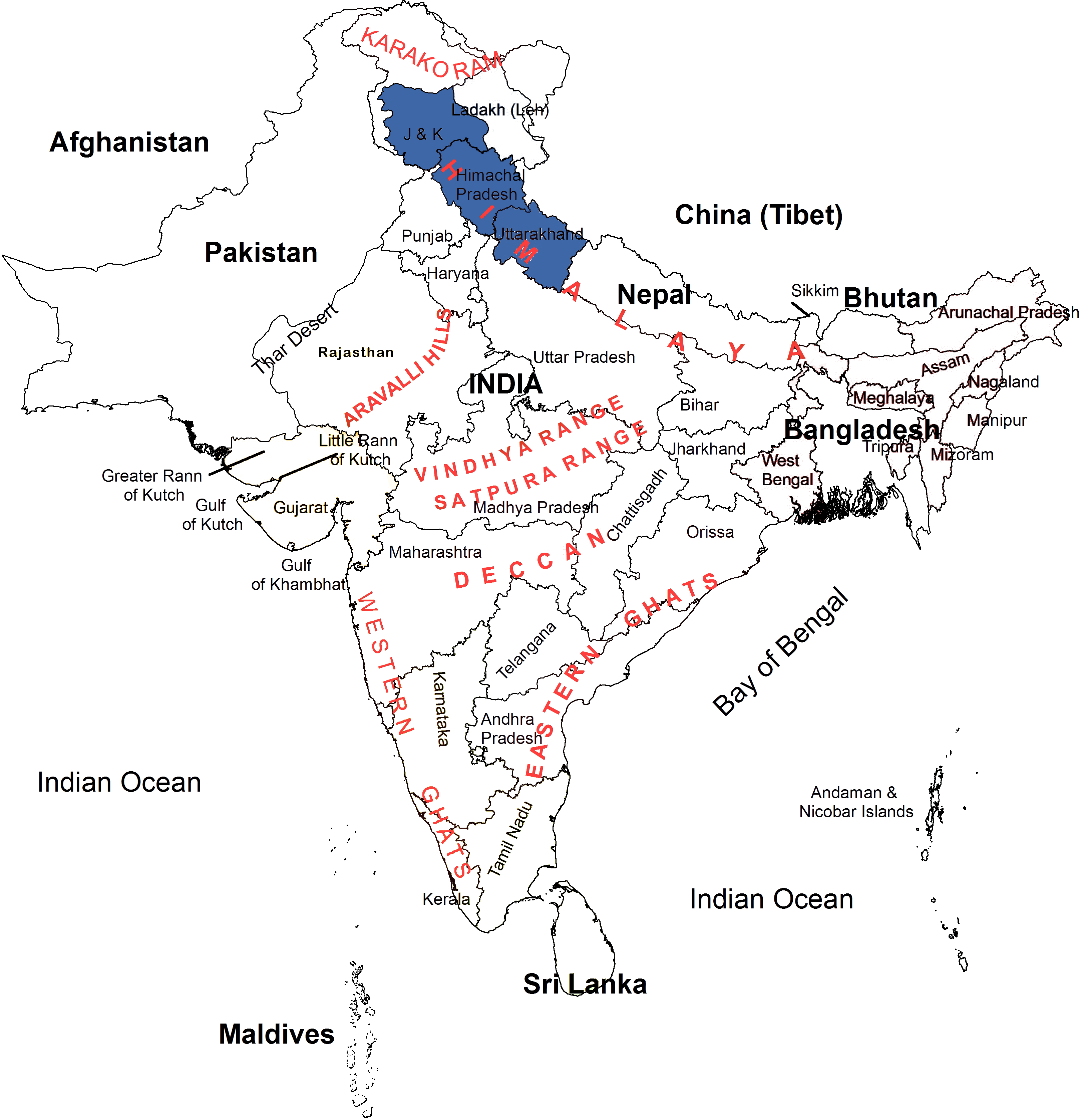 Bird Facts: 
Over 650 species of birds
Around 26 globally threatened and 17 near threatened species
Habitat to around 50 species endemic to Indian Subcontinent of which 10 species are restricted to this region

 

Part of Western Himalayas Endemic Bird Area
Best Time to visit:
Himalayan Foothills: October to March
Great Himalayas: March to June
The Great Himalayan National Park is located near Kullu in the state of Himachal Pradesh. Covering an area of 765 sq. Km, the park is enclosed on the northern, eastern and western boundaries by the Greater Himalayan range. The park comprises of the upper catchments areas of the Tirthan, Sainj, Parvati and the Jiwa Rivers – all are tributaries of the Beas River. More than half the area is above 4,000m with most of the eastern part perennially under snow. High ridges, glaciers, deep gorges, characterize it. It is one of the largest areas of relatively undisturbed Western Himalayan eco-systems. The forests comprise sub-tropical alpine and dry alpine shrub types. 'Cheer' Pines, Conifers, Oaks, Firs, Rhododendrons, and Junipers can be seen. 
One can do several birding trails and hikes available within the park. Suggested routes are: 
Sainj Valley: 5 days trek of about 50 kms
Sainj-Tirthan Valley: 08 days trek crossing over 3400 m ridge separating the Sainj and Tirthan river valleys with about 80 kms journey
Gushani to Shilt: 32 kms long round trip of in 04 days going up to 3000 mt
Jiwa Nala to Parvati River: 100 kms of rigorous 07 days trek crossing over 4636 mt pass
One of the few known viable populations of Western Tragopan, a globally threatened and restricted-range species of pheasants, lives in this protected environment of the Great Himalayan National Park along with five species of Himalayan pheasants, the Cheer pheasant (Globally threatened), Himalayan Monal, Koklass pheasant, Kalij pheasant and the Himalayan Snow-cock. Other restricted range species inhabiting this region are White-cheeked Tit, White-throated Tit, Kashmir Nuthatch, Kashmir Flycatcher, Spectacled Finch and Orange Bullfinch.
The Corbett National Park and surrounding forests and meadows of Kaladhungi, Betalghat, Nainital, Ranikhet, Binsar, Pangot, and Sattal located in the Terai region showcase the junction of the avifauna of the lower Himalayas and the Indian plains. 
The Corbett National Park is located in the Terai region of the state of Uttar Pradesh. Situated in the foothills of the Himalayas, the park spans over an area of 1200 sq. km, at an elevation of 400-1200 meters. The Ramganga River flows through the park along with numerous little forest streams. The forest is predominately covered by sal trees on the higher ridges. Mixed deciduous forests are found throughout the park. The park is a paradise for birders as it is home to around 580 avian species.
The Kaladhungi forests near Corbett Tiger Reserve are popular for birds and Tigers. The fauna and flora of the Kaladhungi area is similar Corbett Reserve and one can do a birding walk in the forest since it is outside reserve area. Around 300 species of birds can be seen within a small area of about 15 Sq. km. The wooded margins of the Boar River and its tributaries are the most bird rich areas, where numerous sub-environments can be found, each with its own characteristic. Located 60 Kms from Corbett on the Ranikhet road, this is another prime birding area. More than 400 species of birds have been spotted in and around Betalghat. Nainital is a hill station located only 60 kms from Corbett at 1938 meters. The mountains around Nainital rise to over 2,800 metres. Binsar is located 110 kms ( 06 hrs drive) North of Nainital. Jhandi Dhar peak located at an altitude of 2412 metres, is a view point offering a view of the famous peaks that include the Kedarnath, Trishul, Nanda Devi, Nanda Kot and Panchchuli. The surroundings are rich with alpine flora, ferns, moss and many species of wild flowers.
Some of the notable bird species of this region include the Lammergeier, King and Himalayan Griffon Vultures, Golden Eagle, Steppe Eagle, Honey Buzzard, Crested Serpent Eagle, Long-legged Buzzards and Kestrels, Pheasants such as Kalij, Himalayan Monal, Koklass and Cheer, Black Headed Oriole, Black Crested Yellow Bulbul, Blue Bearded Bee Eater, Blue Whistling Thrush, Emerald Dove, Fire Capped Tit, Great Barbet, Great Indian Hornbill, Great Slaty Woodpecker, Himalayan Flameback Woodpecker, Fulvous Breasted Woodpecker, Grey Capped Pygmy Woodpecker, Greater Yellow nape woodpecker, Speckeled Piculet, Green Billed Malkoha, Green Magpie, , Red-Billed Blue Magpie,cBlack-throated Jay, Crested Kingfisher, Large Billed Leaf Warbler, Orange Bellied Leafbird, Lesser & Greater Racket Tailed Drongo, Long Tailed Broadbill, Chestnut Bellied & Velvet Fronted Nuthatch, Olive Backed Pipit, Orange Headed Thrush, Red Billed Leiothrix, Red Jungle Fowl, Rubythroat, Rufous Bellied Niltava, Slaty Blue Flycatcher, White Throated Fantail Flycatcher, Slaty Headed Parakeet, Tawny Fish Owl, Tickell's Thrush, Verditer Flycatcher, and Yellow Eyed Babbler, Hill Prinia, Himalayan Bulbul, Green-Tailed Sunbird, Mrs Goulds Sunbird, Crimson Sunbird, Spotted Forktail, Rusty-Cheecked Scimitar Babbler, Streak- Breasted Scimitar Babbler, Chestnut Thrush, Plumbeous Redstart, Wall Creeper, River Lapwing, Jungle Owlet, Chestnut-Eared Bunting, Small Niltava, Slaty-Blue Flycatcher, Blue-Capped Redstart, Green Tit, Black-Lored Tit, Red headed Tit, Black-throated Tit, Golden Bush-Robin, , Bush warblers, Blue capped rock chat, White capped  and Blue headed redstart, Grey bushchat, Chestnut bellied rock thrush , Rufous breasted Accentors, Himalayan Green finch, Asian barred owlet, Grey-winged Blackbird, black chinned babbler, Nepal House Martin, White-throated, Streaked ,White crested and rufous-chinned Laughingthrushes, Rufous – gorgeted and snowy browed Flycatcher, Long billed thrush, Scaly- breasted Wren Babbler and Chestnut-headed Tesia.