Northeast India comprises of eight states – Arunachal Pradesh, Assam, Manipur, Meghalaya, Mizoram, Nagaland, Sikkim, and Tripura. The Siliguri Corridor in West Bengal, with a width of 21 to 40 kilometers connects the North Eastern Region with East India. The Northeast region can be categorized into the Eastern Himalaya, the Patkai and the Brahmaputra and the Barak valley plains. It has a predominantly sub-tropical climate with hot, humid summers, heavy monsoons, and mild winters. This region, rich in diverse flora and fauna, are some of the last remaining rainforests of the Indian Subcontinent.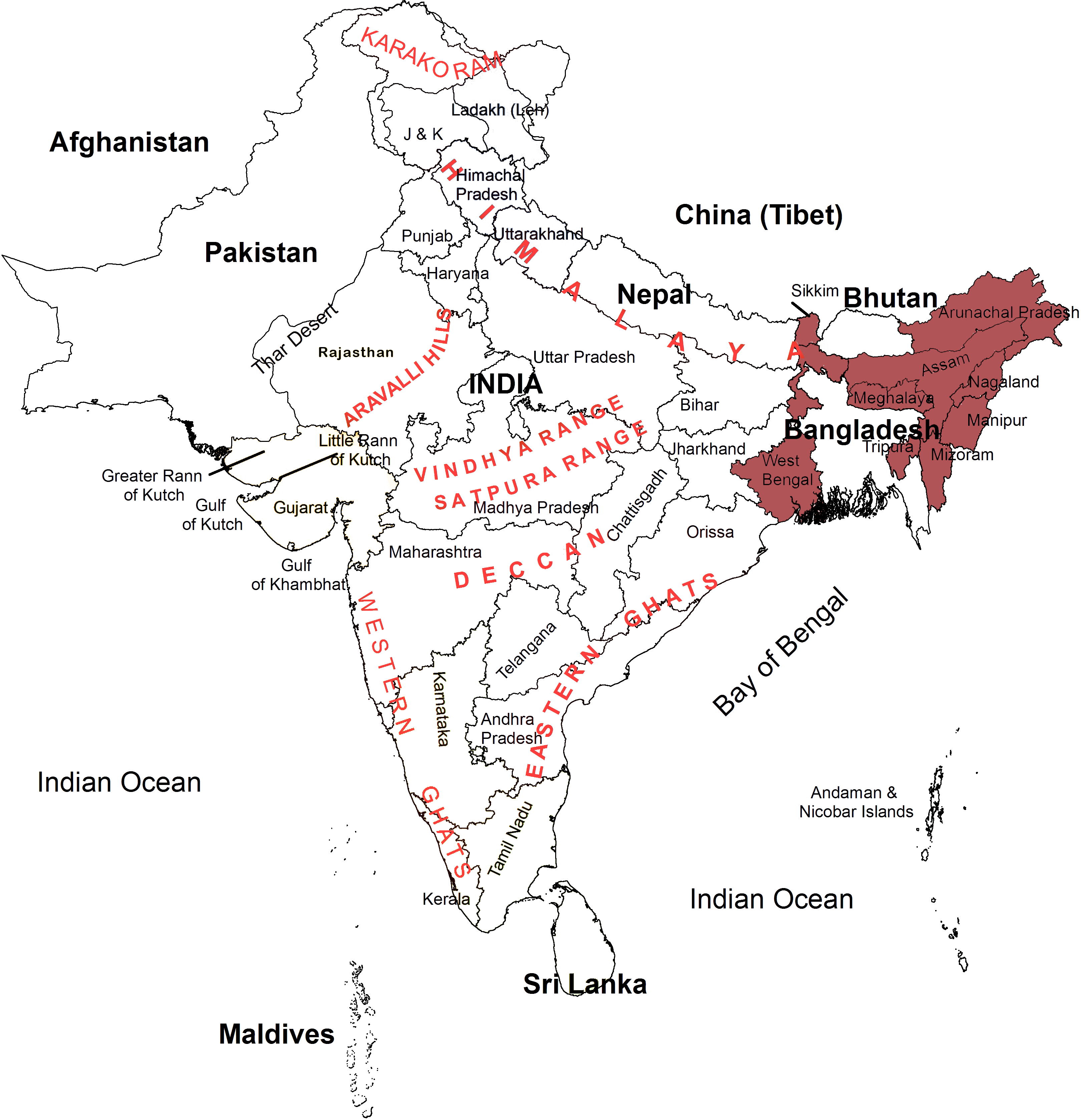 Bird Facts:
Over 800 bird species
Over 50 globally threatened and 30 near threatened species
Over 30 species endemic to Indian subcontinent have around 25 species having restricted range in this region

 

Part of Eastern Himalayas, Assam Plains, Southern Tibet, and Northern Myanmar Lowlands Endemic Bird Areas

 
Best Time to Visit: October to March 
During the trip to North East there are chances to see numerous restricted range species which includes globally threatened species like Chestnut-backed Laughingthrush, Manipur Bush-quail, Black-breasted Parrotbill, Marsh Babbler, Chestnut-breasted Partridge, Sclater's Monal, Blyth's Tragopan, Dark-rumped Swift, Ward's Trogon, Himalayan Wedge-billed Babbler, Rufous-throated Wren-babbler, Rusty-throated Wren-babbler, Tawny-breasted Wren-babbler, Snowy-throated Babbler, Rusty-bellied Shortwing, and non-threatened species like Yellow-vented Warbler, Broad-billed Warbler, Brown-throated Fulvetta, White-naped Yuhina, Brown-capped Laughingthrush, Striped Laughingthrush, Beautiful Sibia, Grey Sibia, Hoary-throated Barwing and Streak-throated Barwing. 
Other notable species likely to be seen are Bugun Liocichla, Slender-billed Vulture, Bengal Florican, Greater Adjutant, White-winged Duck, Great Hornbill, Yellow-rumped honeyguide, Long-tailed, Wren Babbler, Manipur Wedge-billed Babbler, White Cheeked Partridge, Mrs. Hume's Pheasant, Lesser Adjutant, Swamp Francolin, Slender-billed Babbler, Rufous-necked Hornbill, Beautiful Nuthatch, Silver-breasted broadbill, etc.
Some of the important Birding and Wildlife areas of North East and West Bengals are as follows:
Assam: Guwahati, Kaziranga National Park, Gibbon Wildlife Sanctuary, Manas National Park, Nameri National Park, Orang National Park, Pabitora Wildlife Sanctuary, Dibru- Saikhowa National Park, Digboi Oil Fields, Majuli Island.
Arunachal Pradesh: Namdhapha Tiger Reserve, Eagles Nest and Sessa Wildlife Sanctuary, Dibang and Mehao Wildlife Sanctuary(Mishmi Hills), Pakke Wildlife Sanctuary, Dirang-Sangti Valley-Sela-Mandala, Yinkiyong, D'ering Memorial Wildlife Sanctuary, Mouling National Park.
Meghalaya: Shillong, Cherrapunjee.
Manipur: Shiroi Community Forest.
Nagaland: Khonoma Tragopan Sanctuary.
Mizoram: Blue Mountain National Park.
Tripura: Gumti Wildlife Sanctuary, The Rowa Wildlife Sanctuary, The Sepahijala Wildlife Sanctuary.
West and North Bengal: Singalila National Park, Lava-Neora National Park, Mahananda Wildlife Sanctuary, Jaldhapara Wildlife Sanctuary, Gorumara Wildlife Sanctuary, Buxar Tiger Reserve, The Sunderbans Biosphere Reserve.
Sikkim: Kanchendzonga National Park, Maenam Wildlife Sanctuary, Tedong Reserve Forest, Yumthang- Shingba Wildlife Sanctuary, Hilley &Barshey.
Suggested Routes:
Mahananda, Lava, Rangit Valley, Varshey, Ravbangla, Darjeeling and Sandakphu (10-12 days)
Nameri – Dirang- Sela Pass – Eaglesnest (10-12 days)
Guwahati – Kaziranga  Nameri – Dirang- Sela Pass – Eaglesnest (15-17 days)
Namdhapa – Dibru-Saikhowa – Kaziranga (14-16 days)
We specialize in designing customized tours depending on your interest and time availability. Please contact us for designing a perfect experience for you.